I've been feeling frustration on the course, the range, and the putting green recently as I try to get my game up to snuff for tournaments in the summer. Whether you play casually or competitively, many of us know the feeling of trying to play at our best but failing to do so. Though some golfers possess the elusive quality of being able to enjoy a round no matter how many bunkers, water hazards, or trees they find themselves in, the vast majority of us translate a good round into a fun round, and a bad round into a miserable round. Throughout my years playing golf, I've stumbled on a few key principles to make sure that you don't fall into the trap of being angry on a golf course – which, if you think about it, is almost bizarre considering you could be anywhere else (you could be stuck in a cubicle at work!).
1) Play in 3's. I don't mean threesomes. I mean by holes. My high school golf coach taught me this one, and it's served me well. Set a goal for yourself. Maybe the first three holes are easy, so you should aim for even par through those holes, but perhaps the last three are difficult, so you want to aim for +1 for those. After you complete a group of three holes, whether you fulfill, surpass, or fail your goal, forget about that group of holes and move on to the next one, setting a new goal. If you keep doing this, you won't fall into the habit of "Well, I bogeyed the last six holes, so I need to finish 6-under to go even." You'll enjoy your round more and have the added satisfaction of not just getting a birdie or a par on a hard hole, but of reaching your goal for three holes.
2) There are no bad shots – there are only opportunities. It doesn't matter where you are. If you can move the golf club enough to propel the golf ball, it's an opportunity. When you're in the bunker, the rough, or you've left yourself no green to work with on a downhill slope, think about it as a chance to make a legendary shot. On Thursday of the Memorial Tournament, Phil Mickelson duffed a chip into the bunker. He needed to save par by holing it from the sand, and, well, just watch this clip: http://youtu.be/vOnBnc_bmvQ
He wasn't thinking, "Oh, I'm doomed," and he sure wasn't angry, maybe a bit shocked at most. He went into the bunker, and, just as the announcer comments on his immense optimism on the course, he holes out for par. You can't be "Phil the thrill," but you can make your own thrills by pulling off similar shots. Be positive!
3) Let it go. One of the most valuable lessons I've learned during countless hours under golf instruction is the value of the "baseball swing." It went like this: swing the club as if you're playing baseball, but tilt it more vertically so you can actually strike the ball. That's all there is to it. Letting go, telling yourself that you don't care if you hit your shot into the water, or into the trees, and really trying to rip one down the middle is incredibly refreshing for your mind and body. The same rule applies for putting and chipping. I used to be a basket case if my alignment and technique weren't perfect before my round, but I started scoring my best when I accepted the fact that my round was starting and there was nothing I could do about it. This might actually make you more nervous than confident, but the simple fact of the matter is that when you can't do anything about it, you have less responsibility. If you have less responsibility for your shots, well, then you've never been in a better position to play fearlessly and enjoy your round.
Think about these three easy principles next time you're playing. Remember, the moment you start to feel stress during a beautiful round of golf is the moment that you've forgotten the spirit of the game, or any recreational sport.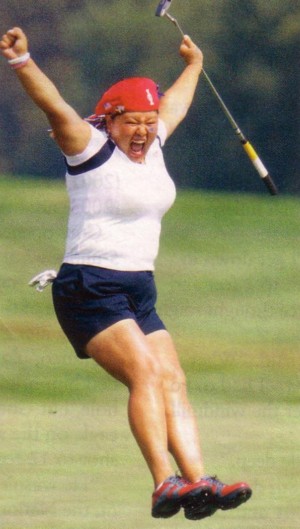 For more Golf Tips click HERE.